"For too long, many nations, including my own, tolerated, even excused, oppression in the Middle East in the name of stability. Oppression became common, but stability never arrived. We must take a different approach. We must help the reformers of the Middle East as they work for freedom, and strive to build a community of peaceful, democratic nations."
- George W. Bush
More pages:
1
2
---
New metaballs demo
Sunday, January 2, 2005 |
Permalink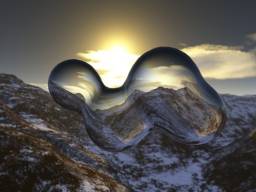 Another time-waster for ya.

---
---
Paronator
Thursday, January 13, 2005
Why not 3dsmax or maya? todo low poly there it is possible...
---
NeARAZ
Friday, January 14, 2005
I think he said "Maya"... And for level meshes probably Unreal's editor much more convenient.
---
Xmorph
Tuesday, January 18, 2005
That's a DAMN fast MC algorithm

---
Neil
Thursday, February 3, 2005
Very Nice!
---
DB
Sunday, March 13, 2005
Great knowledge to share....thank you very much...realy nice realtime metaballs with dispersion

---
More pages:
1
2