"Space is big. You just won't believe how vastly, hugely, mind- bogglingly big it is. I mean, you may think it's a long way down the road to the drug store, but that's just peanuts to space."
- Douglas Adams
More pages:
1
2
---
New demo
Saturday, September 27, 2003 |
Permalink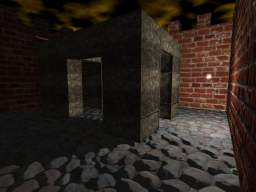 Time for a demo again.

It's been a while now since the last demo, but that doesn't mean I haven't worked on anything. I have written a demo for the Beyond3D shader competition. I'll publish that demo here once the results are published.
Anyway, while waiting for that I got some self shadowing bumpmapping goodness for ya.

---
---
PeteT
Sunday, September 28, 2003
Simple, and brilliant. Nice work!
---
Viper2051
Sunday, September 28, 2003
One Word: WOW
---
davepermen
Sunday, September 28, 2003
really nice. as always, you arange your demos in a nice way, so that the effects get really impressive. i love the shadows on the floor shadowing over the higher and lower parts differently, and all...
really nice! (and the sky is nice, too

)
---
Loed
Monday, September 29, 2003
You're making me dizzy

nice work Humus
L.
---
rob
Wednesday, October 1, 2003
Doesn't run on my 9700 with Cat3.7, I get a message saying 'Couldn't create Direct3D device interface' and then an empty message box...
but the screenshot looks nice anyway

---
G!ZMo
Wednesday, October 1, 2003
really nice work
WOW
---
Deficite
Wednesday, October 1, 2003
Hmm, weird! To me all walls are black, and I only see a small circle on the floor. I'm using a GeForce FX 5200.
---
LaVekkia
Wednesday, October 1, 2003
Get Only A black screen, i see only the light circle
AMD k6-2 450
radeon 9500 catalyst 3.7
windows 2000
Direct X 9.0
---
More pages:
1
2