---
Time for another GPU battle
Tuesday, April 13, 2004 |
Permalink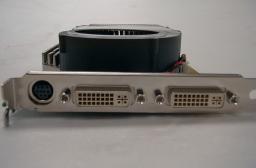 Interesting times are ahead of us. Another generation of GPUs are just around the corner.

As many of you may know, the NV40 is according to rumors going to be presented later tonight. Maybe around midnight some say, which would be early morning for us in Europe. It will be interesting to see what this beast can manage. Some info has already leaked out, but the reviews due tomorrow will certainly be an interesting read. Some photos have also hit the net. It seems that the dustbuster story will be repeated. One can only hope there will be more silent versions around.
In another couple of weeks the R420 will also be presented. Not as much information has leaked about it, but it seems to be quite a beast too. Recent rumors say it's a 16 pipeline badass, but as we all knows, the battle will not take place in technical PR numbers but in the benchmarks. And for us who write our own apps the feature battle will be just as interesting if not more.
Bring it on!

[
9 comments
|
Last comment by bloodnok (2004-05-03 13:58:16)
]
---