More pages:
1
2
---
New Alpha to coverage demo
Thursday, June 23, 2005 |
Permalink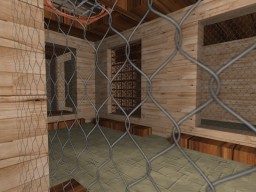 There's a new demo up that demonstrates alpha-to-coverage as a replacement for alpha testing for masked textures when using multisampling. It allows you to compare the quality to alpha testing.
---
---
Thursday, June 23, 2005
Wow! Really nice! Now I don't have to convert to the "evil" side to get AA on Alpha Textures, I know now there's a tecnique for softening Alpha's without SSAA. All we need to do now is to convince some game developers to incorporate this in their games. And why haven't they yet?
Really nice Humus! You could teach iD and Valve (i.e) some things (Or many =D).
Take care =)
---
Mr.Pink
Thursday, June 23, 2005
Very good indeed!
Is this technique similar to "transparency AA" in new Gf 7800GTX?
---
Jan
Friday, June 24, 2005
Hi there
It doesn't work on my Radeon 9700 Mobility (Catalyst 5.6). If Alpha-To-Coverage is enabled, the parts which should be transparent, are black, so i cannot see through the fence. With Alpha Test it works, of course.
Jan.
---
CybeRUS
Friday, June 24, 2005
Hi, it doesn't work on my Geforce 6800 GT and 77.72 driver.
Bug same as Jan
---
Humus
Friday, June 24, 2005
---
tEd
Friday, June 24, 2005
Humus , the SuperSampling tranparency AA is done with a sparsed sample grid and should look really good
---
Humus
Friday, June 24, 2005
The problem is that supersampling can't solve the problem in the general case. You don't want to average 4 binary values, you want to use one value interpreted directly. Otherwise you get problems with mipmaps. Supersampling doesn't solve that problem.
Alpha blending will always be best, but alpha-to-coverage doesn't need sorting and looks almost as good.
---
tEd
Friday, June 24, 2005
Well the big downside of AtC right now is that it's not supported in d3d and it's not forceable in the driver.
---
More pages:
1
2