"It has been said that the great scientific disciplines are examples of giants standing on the shoulders of other giants. It has also been said that the software industry is an example of midgets standing on the toes of other midgets."
- Alan Cooper
More pages:
1
2
---
New demo
Sunday, February 4, 2007 |
Permalink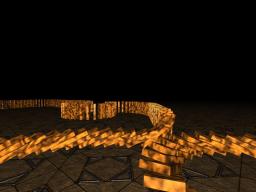 I've added a new piece of eye-candy to the demos. This time it's an automatically generated domino track. It saves you all the time it takes to buid a domino track.

Just lean back and enjoy the show.

---
---
Sombra
Monday, February 19, 2007
Really very good, run smooth in a 6800GS. The action of dominoes is hypnotic.
---
Koen
Sunday, February 25, 2007
Hey, nice demo,
Could you make a screensaver version of this maybe?
---
Ningu
Monday, February 26, 2007
Yes, this screams to be a screensaver.
---
Steffe
Sunday, March 4, 2007
Nice, runs great even att 1680*1050 ^_^
---
tommyg
Saturday, December 22, 2007
I seem to see only a few dominoes with a lot of space between each one. very strange
---
More pages:
1
2