"The world is a dangerous place to live, not because of the people who are evil, but because of the people who don't do anything about it."
- Albert Einstein

More pages:
1
2
---
New demo!
Tuesday, October 23, 2007 |
Permalink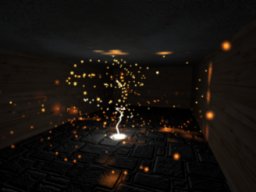 It was long overdue, but I've finally added a deferred shading demo to my site.
Enjoy!

---
---
NULL_PTR
Wednesday, October 24, 2007
Very nice!
Nearly 35 fps on 2600XT (1280x1024)
---
sqrt[-1]
Wednesday, October 24, 2007
Great, I decide to do a deferred shading demo using your frame work, and you beat me to the punch.
(re the emails I sent you)
(Oh well, I think I have a trick or two that you have not done)
---
Shader
Thursday, October 25, 2007
Unable to test this awesome looking sample ATM, but does it also illustrate soft particles in DX10?
---
Humus
Thursday, October 25, 2007
No, it doesn't, because the particles never cut through the walls anyway, so there's no point. However, it would be trivial to implement.
---
Jeremy Shopf
Thursday, October 25, 2007
Very nice. Especially enjoy the z extents testing
---
jean
Friday, October 26, 2007
do you plan to port it to opengl ?
---
Humus
Saturday, October 27, 2007
I usually don't do straight ports between APIs. But I might very well do a different deferred shading demo for OpenGL.
---
Schmackbolzen
Monday, October 29, 2007
I don't know if the question was asked already, but since your both last demos were in DX10 I wonder why you did not choose OpenGL? DX10 is Vista only, for OpenGL it does not matter and from what I read the performance increase you should gain in DX10 through new driver model does not affect OpenGL, since the performance problems is a problem of the DX9 design alone.
---
More pages:
1
2