"Scientists have finally discovered what's wrong with the human brain: On the left side, there is nothing right, and on the right side, there is nothing left."
---
GDC slides available
Saturday, March 29, 2014 |
Permalink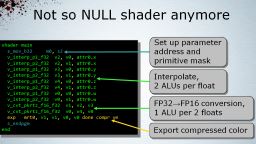 The slides from my GDC 2014 talk
Low-level Shader Optimization for Next-Gen and DX11
are now available
here
.
---
---
Chuck
Saturday, November 8, 2014
Very helpful presentation highlighting the less-than-intuitive optimizing of shaders.
---