"Scientists have finally discovered what's wrong with the human brain: On the left side, there is nothing right, and on the right side, there is nothing left."
---
Shader syntax highlighting
Wednesday, March 5, 2003 |
Permalink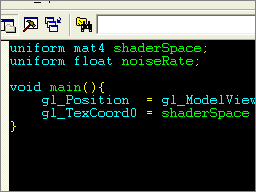 After coding shaders for a while I found that it would help a lot if I could get syntax highlighting on my shaders. So I decided to solve the problem and put together a small file of user keywords for MSVC. It supports GL_ARB_vertex_program, GL_ARB_fragment_program, OpenGL 2.0 glslang and DX9 HLSL.
Click the headline to get over to the Cool stuff section for the file and installation instructions.
---
---
Luke
Thursday, March 6, 2003
Humus, thats awesome! Great stuff, thanks!
---
Adam@einstein.com
Tuesday, May 3, 2005
Good program!!
---
adam
Tuesday, May 3, 2005
good program!!
---