"The radical right wants everyone to be treated equally. The radical left want everyone to be treated until they become equal."
- Fredrik Y. Törn (m)
More pages:
1
2
---
New demo
Saturday, August 9, 2003 |
Permalink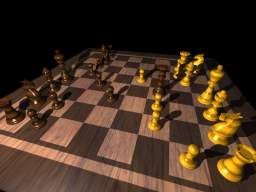 There's a new demo up doing an autoplaying chess animation with some cool graphics. Well, actually the demo isn't "new", it was done well before the summer, however, the timing with the completion of this demo and the driver releases gotta be the worst ever. A small driver problem held this demo back, it got fixed quickly, but the fix didn't make it into the next public driver released soon after. And no new driver went public before the summer either, thus the wait. But now it's here though, so enjoy!

---
---
goldberg
Wednesday, May 31, 2006
this thing's creeps!!!!!!!! nonsence!!!!!!!!! crazy!!!!!!!! go bankrupt
---
charles o doido
Wednesday, June 4, 2008
eu quero esse jogo
---
jonatan
Wednesday, June 4, 2008
---
More pages:
1
2