"We use the word 'politics' to describe the process so well: 'Poli' in Latin meaning 'many' and 'tics' meaning 'bloodsucking creatures'."
---
New demo
Tuesday, October 26, 2004 |
Permalink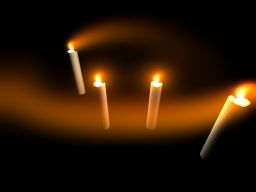 As the winter approaches, or have already arrived at some places, it's time to cosy up with a demo of candle flames dancing in the dark. Well, not only the flames that are dancing in this demo, the actual candles are jumping around as well causing the familiar light trails you can see in real life as well in a dark room with candles when the the bright candle light sticks on the retina.
Enjoy!

[
21 comments
|
Last comment by paronator (2004-11-08 06:39:01)
]
---