More pages:
1
...
11
...
21
...
23
24
25
26
27
28
29
30
31
32
33
...
41
...
48
---
New ATI SDK
Wednesday, March 29, 2006 |
Permalink
The March 2006 edition of the
ATI SDK
is now available for download. Lots of interesting stuff there, in particular the R2VB (render to vertex buffer) samples.
[
1 comments
|
Last comment by Thor_Sevan (2006-04-02 23:17:16)
]
---
New infinite terrain demo
Thursday, March 9, 2006 |
Permalink
This is a demo, quite similar to my old infinite terrain demo, but this time implemented using R2VB.
Enjoy!

2006-03-11 update:
I've added VTF support, so now it should on GeForce 6 series and up too, but as expected, it's quite slow. The 6600 ran at 27fps compared to the X850XT at 272fps.
[
19 comments
|
Last comment by Nuninho1980 (2008-03-05 10:17:36)
]
---
New selective supersampling demo
Monday, February 6, 2006 |
Permalink
Here's a demo that shows how to do application side supersampling in the shader at much lower performance cost than normally associated with supersampling.
I've made pretty substancial updates to the framework, which for instance made GameEngine2 break (still haven't debugged it, but will do that in the coming days). So if you plan on compiling any older demos, keep your old copy of Framework3 around for now.
2006-02-08 update:
I added dynamic branching to the sample. The cost of supersampling is now even less. 4x only reduces performance to 77% instead of the previous 60%. The 11x mode is now at 55% versus previous 31%.
2006-02-11 update:
I've now fixed the GameEngine2 problem, plus fixed a couple of bugs I found during this process. I also recompiled the older demos based on Framework3 and uploaded new versions so they also got the interface update (you can now select your own keys).
[
21 comments
|
Last comment by Humus (2006-02-22 20:29:08)
]
---
DXOverride update
Wednesday, February 1, 2006 |
Permalink
I added the ability to override the backbuffer format. This is useful for instance to set the A2R10G10B10 format on the X1x00 series boards for better color precision.
[
6 comments
|
Last comment by Humus (2006-02-05 14:02:36)
]
---
The Radeon X1900 released
Tuesday, January 24, 2006 |
Permalink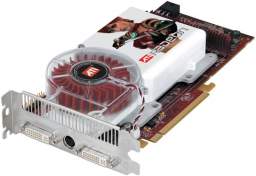 The X1900 series cards were officially launched today and the reviews are in.
Beyond3D
Firingsquad
Anandtech
Extremetech
Tom's hardware guide
[
6 comments
|
Last comment by Anonymous (2006-01-25 23:10:33)
]
---
New gallery
Sunday, January 22, 2006 |
Permalink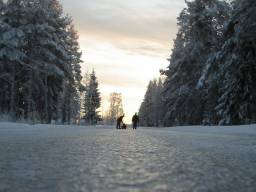 I've uploaded a new gallery. It's mostly pictures from my vacation, which I spent with my family in Sweden. But there are also some random left-over pictures from the last half year or so.
[
1 comments
|
Last comment by :) (2006-04-04 20:36:54)
]
---
Back again
Thursday, January 19, 2006 |
Permalink
The silence has come to an end. The vacation was great. This year I didn't have to travel around so much to see all my family, but got to see most of my family at my parents' place. The only side trip was to Storuman to see my two of my brothers and my little sister. Otherwise I stayed at my parents' place, where other family members and relatives came by. My older sister and her family stayed with us most of the time in order to be close enough to a hospital because she's expecting a baby. That's the reality in the North of Sweden. Way too little people living in some areas, so sometimes it can be more than a hundred kilometers to the closest hospital. Anyway, she's currently pregnant at overtime. I was hoping to see the new baby before I left, but unfortunately it didn't take my desires into account and decided to stay another couple of weeks. So I've now returned back to Toronto and we're still waiting for it to arrive. Oh, well. I guess that means I can't wait another full year before returning.
However, I got plenty of time to play with niece and nephew instead, so I'm not too disappointed. It's been a full year before I saw them the last time, which is a lot for kids in that age. Johannes is now 5 years old and Frida is 3. Frida has now reached the wonderful age where she walk and talk all by herself and don't leave too much saliva around. Johannes has reached the why-age, where every statement comes attached with a "why", whether it makes sense or not.
I was going to write more, but I'm fighting with the jetlag right now. I'm still on Swedish time. It's just past 9, but I'm getting very sleepy.
Anyway, there will be pictures here soon enough.
[
7 comments
|
Last comment by Scorpion (2006-01-22 02:00:50)
]
---
Heading home
Monday, December 26, 2005 |
Permalink
In 4 hours my cab will be here taking me to the airport. 19 hours later I should hopefully be home at my parents' place. I'll be away for over three weeks, and without internet access most of the time, so expect some silence here.
[
6 comments
|
Last comment by N (2006-01-16 11:51:33)
]
---
More pages:
1
...
11
...
21
...
23
24
25
26
27
28
29
30
31
32
33
...
41
...
48