---
Framework 4
(Last updated: October 25, 2019)
Framework 3
(Last updated: February 6, 2017)
Framework 2
(Last updated: October 8, 2006)
Framework
(Last updated: October 8, 2006)
Libraries
(Last updated: September 16, 2004)
Really old framework
(Last updated: September 16, 2004)
---
GameEngine
Saturday, May 4, 2002 |
Permalink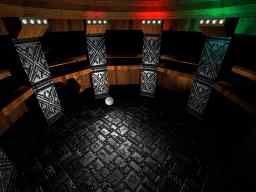 Executable


Source code
GameEngine.zip (1001 KB)
Required:
GL_ARB_multitexture
GL_ARB_texture_env_dot3
GL_ARB_texture_env_combine
GL_EXT_texture_edge_clamp
GL_EXT_texture3D
GL_ARB_texture_env_crossbar or GL_NV_texture_env_combine4
Recommended:
GL_ATI_fragment_shader or GL_NV_register_combiners
GL_ARB_texture_cube_map
GL_ARB_texture_compression
GL_EXT_texture_compression_s3tc
A demo of the game engine I've been working on. It should run on the whole Radeon series card, Parhelia, GeForce 3 and GeForce 4.
It's a flyby demo, moving you around in a not too unfamilar environment for some of you FPS freaks out there.

2002-05-04:
Bumping this demo up again as I've finally got around to clean up the code and sort of finalized it. Source in now available for all you people that I know have been waiting, I apologize for all the delay. There aren't a whole lot of changes since last time, slightly tweaked lighting, the fogging I worked didn't make it into the demo either, it would be too much trouble to get a solid implementation on todays hardware with the method I tried.
---