---
Particle trimmer
Thursday, May 21, 2009 |
Permalink
---
Planet wrapper
Thursday, May 8, 2008 |
Permalink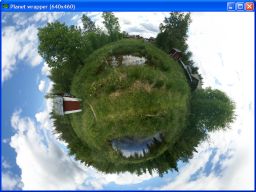 ---
GLOverride
Tuesday, July 5, 2005 |
Permalink
---
DXOverride
Tuesday, July 5, 2005 |
Permalink
---
3DcGenerator
Monday, May 31, 2004 |
Permalink
You need the texconv.exe file from the DirectX SDK to use it.
---
MSVC Shader syntax highlighting
Tuesday, March 4, 2003 |
Permalink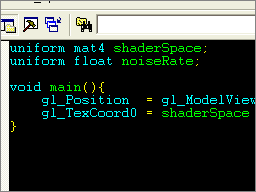 GL_ARB_vertex_program
GL_ARB_fragment_program
OpenGL 2.0 glslang
DX9 HLSL
To use it, just do these steps:


Close MSVC if it's open.

Copy usertype.dat to &ltMSVC_dir&gt\Common\MSDev98\Bin. If there's already a file there, don't overwrite it, just open it and paste the contents at the end of the file instead.

Open regedit and go to HKEY_CURRENT_USER\Software\Microsoft\DevStudio\6.0\Text Editor\Tabs/Language Settings\C/C++. If you use .vsh and .fsh for vertex and pixel shaders then add ";fsh;vsh" at the end of the "FileExtensions" entry. If you're lazy you may just double-click the coloring.reg files instead (will overwrite that key though and not just concatenate).

If you have included any shader files into a project already, MSVC will still think it's a normal text file. To solve that problem, just remove them from the project and include them again.
---
Hider
Thursday, October 11, 2001 |
Permalink
hider.exe Show WindowTitle
hider.exe Hide WindowTitle
---
Bmp2Ascii
Saturday, May 5, 2001 |
Permalink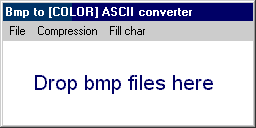 for posting on forums that supports the [COLOR] tag.
At this time it only supports 24 bit bmp files where width * 3 / 4 is an integer (I haven't taken care of aligning).
It supports a form of compression to take the size of the image down and various chars to build the image.
Use it with care, the images can be quite large, so use images no larger than maybe 64x64. Use the compression feature to as high extent as possible without ruining the image.
---