More pages:
1
2
---
Self shadowing bumpmapping updated
Thursday, January 15, 2004 |
Permalink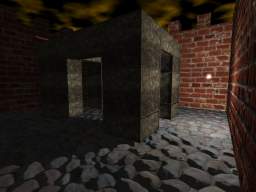 The self shadowing bumpmapping demo has been updated to support offset mapping too, which further improves the sense of depth in the picture, and isn't very expensive either.

---
---
Humus
Saturday, January 17, 2004
Andrey S,
maybe I'm just blind, but I don't see any significant difference with your code. I mean, it looks a little different in certain places, but it's not like I can say it looks better or worse.
---
NeoKenobi
Saturday, January 17, 2004
A very nice bumpmapping technique Humus! I'm not too familiar with this "offset" technique, but does it just multiply different areas of the heightmap with some sort of constant?
---
Humus
Saturday, January 17, 2004
It's very simple. It just offsets the texture coordinates according to a height map. The essence of the technique lies in these lines in the shader:
float height = tex2D(Elev, texCoord);
float2 newTexCoord = texCoord + viewVec.xy * (height * 2.0 - 1.0) * 0.04;
---
G!ZMo
Tuesday, January 20, 2004
looks very nice
keep up the good work!!
---
Da3dalus
Wednesday, January 21, 2004
Damn, looks bloody great! Even better than before

---
H�vard Lindset
Wednesday, January 28, 2004
Looks good... personally, I like it better without self shadowing on (don't know why, but I think it gives the scene a "cartoony" look)
---
ANA
Monday, February 13, 2017
THANKS A LOT
---
More pages:
1
2