"PHP is a minor evil perpetrated and created by incompetent amateurs, whereas Perl is a great and insidious evil, perpetrated by skilled but perverted professionals."
- Jon Ribbens
More pages:
1
2
---
New metaballs demo
Sunday, January 2, 2005 |
Permalink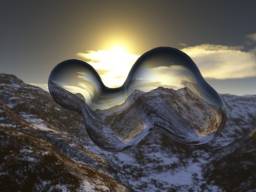 Another time-waster for ya.
---
---
Paronator
Thursday, January 13, 2005
Why not 3dsmax or maya? todo low poly there it is possible...
---
NeARAZ
Friday, January 14, 2005
I think he said "Maya"... And for level meshes probably Unreal's editor much more convenient.
---
Xmorph
Tuesday, January 18, 2005
That's a DAMN fast MC algorithm

---
Neil
Thursday, February 3, 2005
Very Nice!
---
DB
Sunday, March 13, 2005
Great knowledge to share....thank you very much...realy nice realtime metaballs with dispersion

---
More pages:
1
2