"The very existence of flame-throwers proves that some time, somewhere, someone said to themselves, You know, I want to set those people over there on fire, but I'm just not close enough to get the job done."
- George Carlin
More pages:
1
2
---
New demo
Sunday, February 4, 2007 |
Permalink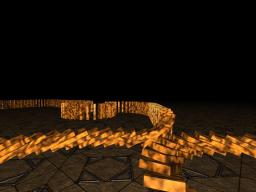 I've added a new piece of eye-candy to the demos. This time it's an automatically generated domino track. It saves you all the time it takes to buid a domino track.

Just lean back and enjoy the show.
---
---
eXile
Monday, February 5, 2007
Arghs! The demo got a awful performance on my Mobility Radeon 9700. However, the shaders are not the bottleneck :/
---
eXile
Monday, February 5, 2007
No the bottleneck is in the Vertex-Shader of the tiles, more precisely the line vec4 attrib = attribs[int(gl_MultiTexCoord0.x)];.
Why does a Radeon 9700 perform this dynamic array lookup so badly?
---
Humus
Monday, February 5, 2007
You're probably getting software rendering. Are you using reasonably recent drivers? There used to be a compiler bug with indexing into constants that caused it to go over native limits pretty quickly. But that was fixed a while ago.
---
Ningu
Monday, February 5, 2007
New demo yay
I would imagine this as a screensaver.
Now if only you could have the dominoes on different elevations as well!
---
'
Tuesday, February 6, 2007
'
---
eXile
Tuesday, February 6, 2007
Yeah, after installing the 7.1 drivers it runs perfectly!

---
Anna
Wednesday, February 7, 2007
Just like the famous XNA domino's, but in openGL - yay : http://andyq.no-ip.com/blog/?p=11
---
rajesh
Friday, February 9, 2007
awesome
---
More pages:
1
2