---
Renegade Ops
Wednesday, September 14, 2011 |
Permalink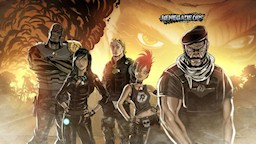 Today we're launching another game,
Renegade Ops
just went live for consoles, and the
PC version
is coming to Steam shortly. And by "we" I mean my fellow colleagues here at Avalanche Studios. I am not and have not been part of the Renegade Ops team, so my main contribution has been my constant "is it done yet?" nagging and dropping a few puns on occasion at their desks. Despite not being on the team I'm very excited about this title. It's just plainly a cool game.

I'll have to wait for another little while though, because I'll be playing on the PC. The game was developed by a small team with a small budget and shorter development time than usual, so I'm impressed with what they have been able to accomplish. And best of all is that it also comes at a small price tag.

€13 on Steam, or €25 for a pack of 4 for those of you who want to play online co-op.
---
---
ewerybody
Thursday, September 15, 2011
Oh yea thats looking very promising!

xploshns!!
But you didn't even contribute to any graphics code? I can't believe ;]
---
MJP
Friday, September 16, 2011
Congrats on the release! I played the game back at E3, and it was a lot of fun.
---
Mad
Sunday, September 18, 2011
Please go over there are ask them when its out for PC again

Can't wait to play it.
---
Humus
Monday, September 19, 2011
ewerybody, well, there is almost certainly code in there that I wrote, but that code would have been written back in the Just Cause 2 days and inherited by the project. Alternatively slipped in through cross-project integrations. But I never worked directly on the project.
---
Bjorke
Friday, September 30, 2011
So based on the same engine base as Just Cause 2? Has a bit of that "visual feeli" in the video clips. Downloading now....
---