"Extremism is so easy. You've got your position, and that's it. It doesn't take much thought. And when you go far enough to the right, you meet the same idiots coming around from the left."
- Clint Eastwood
---
Went to the CN Tower
Tuesday, March 18, 2003 |
Permalink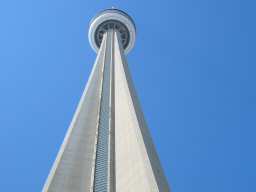 This Monday my brother and sister arrived and they will stay until next Monday. This Saturday we went to the CN Tower. Walking on the glass floor at 342m with a view straight down was quite an experience.

Next weekend we plan on going to the Niagara falls. That'll be pretty cool too

---
---
PK
Tuesday, March 18, 2003
The Ottawa/Montreal area is supposed to be absolutely beautiful. That's where I would love to go! Have a great time in Niagara Falls.
---
Magnus B
Sunday, March 23, 2003
---
Humus
Monday, March 24, 2003
---