"A peculiar alliance has recently come into life. Forces from the extreme left, the extreme right, environmentalist groups, trade unions of developed countries and some self-appointed representatives of civil society, are gathering around a common endeavour: to save the people of developing countries from... development."
- Ernesto Zedillo, former President of Mexico
---
Kickass machine
Saturday, May 29, 2004 |
Permalink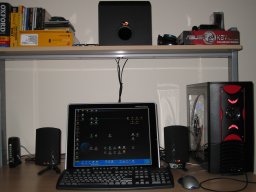 I'm set for some serious development and gaming now with this kickass machine I've built.

Not only is it fast, but it's pretty good looking too. And the crown on top of this work of art arrived today. My manager passed an X800pro board to me. Nothing's like getting free highend hardware.

I brought my Radeon 9800pro and two HDs over from Sweden, but the rest of the machine is new. Now the 9800pro had to go though, so it's just the two HDs that aren't new. Well, they are secondary storage anyway since I also bought a new 160GB SATA drive. The final config:
AMD Athlon64 3200+
ASUS K8V deluxe
1GB DDR400 RAM
ATI Radeon X800pro
Maxtor 160GB SATA HD
IBM 120GB IDE HD
Samsung 60GB IDE HD
Pioneer DVR-107D
Nec MultiSync LCD1765 16ms TFT
Klipsch ProMedia 2.1 THX audio system
Guess I'll be spending some time in front of this machine.
And yes, you can probably expect some new demos showing off the capabilities of the X800pro in the not too distant future.
[
26 comments
|
Last comment by reggin (2004-07-05 17:39:40)
]
---