"If a man speaks in the forest and there is no woman around to hear him, is he still wrong?"
---
Whooha! x 2
Thursday, July 26, 2007 |
Permalink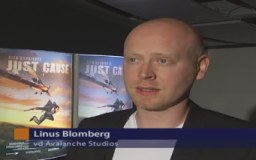 You know it's a small country when you see someone you know on TV twice in a week. This time I spotted Linus Blomberg, CEO of
Avalanche Studios
. I have spent a fair amount of time working with and at Avalanche in my work at AMD, so I've had several interesting technical discussions with Linus.

Here he's discussing the state of the Swedish game industry.
[
3 comments
|
Last comment by Sunray (2007-07-29 17:36:00)
]
---