"We use the word 'politics' to describe the process so well: 'Poli' in Latin meaning 'many' and 'tics' meaning 'bloodsucking creatures'."
---
Wedding!
Saturday, September 28, 2002 |
Permalink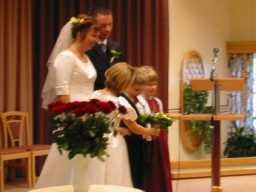 Congratulations to my cousin, Daniel Persson and his wife Isabella, who recently got married. Click on the headline to see the pictures from the ceremony and the party.
[
1 comments
|
Last comment by anusha (2011-12-08 16:42:30)
]
---