---
Renegade Ops
Wednesday, September 14, 2011 |
Permalink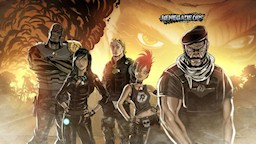 Today we're launching another game,
Renegade Ops
just went live for consoles, and the
PC version
is coming to Steam shortly. And by "we" I mean my fellow colleagues here at Avalanche Studios. I am not and have not been part of the Renegade Ops team, so my main contribution has been my constant "is it done yet?" nagging and dropping a few puns on occasion at their desks. Despite not being on the team I'm very excited about this title. It's just plainly a cool game.

I'll have to wait for another little while though, because I'll be playing on the PC. The game was developed by a small team with a small budget and shorter development time than usual, so I'm impressed with what they have been able to accomplish. And best of all is that it also comes at a small price tag.

€13 on Steam, or €25 for a pack of 4 for those of you who want to play online co-op.
[
5 comments
|
Last comment by Bjorke (2011-09-30 17:06:39)
]
---